A Walk in the Dark
C.B. Anderson
Acknowledgements
Several poems appearing here (some with minor alterations)
were published previously in print journals.
Hidden Oak
: "Market Forces"
Freefall
: "Your Order, Please"
The Pegasus Review
: "Requiem"
The Chaffin Journal
: "Since You Asked…"
The Neovictorian/Cochlea
: "By Dark of Light"
Harp-Strings Poetry Journal
: "Cenotaph"
Copyright © 2007 by C.B. Anderson
Published by
The New Formalist Press
XHTML & CSS design by
Leo Yankevich
Market Forces
Exactly who, in the sharp-angled world
Of grown-ups, are equal to the hard task
Of striking the least vile word off the curled
Lip which girds the dark rictus on the mask

Of tragedy? And who, from gilded marble
Chambers well furnished with fine mahogany,
Will now inflect the cadence of their garble
With plain signs of defective ontogeny

That shaped their final form? The past will pass,
And what remains is only what was there
From the beginning: always the deft ass
Sunk smugly in a plush exalted chair,

With few concerns besides a glutted gullet,
And little care at all for brighter thought
Unless devising means to sooner dull it.
There still exist some throwbacks who were taught

A different way of life at other schools,
But more and more their voices have been muted,
And not surprisingly. They seem like fools,
For Gresham's law has never been refuted.



No News
Too numb to be afraid, too frail to cope,
He reads the paper every afternoon—
The want ads and the daily horoscope.
The news is never good, and fades too soon

To count as real or be of any use
To him at all. The editorial page
He views as just a form of self-abuse
Politically-connected hacks engage

In for their own amusement: writing fit
To line the bottom of a birdcage, wrap
A gutted fish in. Columns opposite
That page prepare him for a little nap

He always takes an hour or so before
It's time to improvise a supper bland
Enough to make a starving man ignore
The dinner bell. He's sure the upper hand

Will soon grow tired of holding down his own
Two, certain that the day will come when mice
Shall rule the world, securing both the throne
And treasure he's already counted twice.



Here's the Deal
Angel of Death, please send your grimmest reaper
Directly to the houses of those folks
Who render me the butt of constant jokes,
So I may then become a sounder sleeper

In debt to you alone: My frequent prayers
Shall evermore be offered in thy name.
And as for beastly men who would defame
Me, tame them all and drive them from their lairs,

And to their offspring do the same, until
Their generations stagger and collapse.
When I am lost on land I beg for maps,
But when I'm lost at sea I need your skill

To guarantee my passage to a harbor
That's safe from storms which gather on the Deep.
If you'll allow me time to catch some sleep,
Then I'll instruct my monthly-summoned barber

To cut my hair in any style you choose.
You are my favorite deity—through thick
And thin, no matter whether I am sick
Or healthy. You're my go-to guy, my muse,
The fount of privileges I will abuse
Until I'm beaten senseless with a stick.



End Game
Observe the smart cadence of a youthful gait
and how it measures the way away from home;
nothing comes calling on those who hesitate,
except the dull echo of a metronome.

A kiss's worth is sometimes overstated,
for nothing drives the price down like desperate lips
translating foreign tongues. Had they but waited,
their rosy gloss might have launched a thousand ships.

The fruit of labor is often not as sweet
as the vagrant savor of a treasure found
where least expected—should work and leisure meet
one day, some saint will raise a shrine on that ground.

An old man's pleasure runs to leeks and onions,
the more the better, but such a pungent fare
will not assuage the urgent lust of young ones
whose hungers rise on the gusts of reeking air.

The seasoned denizens who've pushed their limits
take medicines to see them through the dark spots;
they take positions at the trough and skim its
whole length, wary of infections and blood clots.

The younger residents on this patch of dirt
demand the sacraments, yet neglect to tithe,
imagining themselves immune to the hurt
administered by the grim impartial scythe.

Though time is short, there is exactly enough
to answer bells that chasten habitual
inertia. Alacrity's the lively stuff
of life; delay and death are tired ritual.



Kid Gloves
Whoever says that life is fair is full
of it, but no one ever said that, did
they? Teachers keeping students after school
are in a poor position to forbid

a rash of further disobedience.
This punishment with little pain at stake
does nothing but promote expedience,
for cagey students are inclined to fake

contrition just to satisfy the fools
who somehow manage to construe mere form
as strict adherence to established rules
and, doing so, make subterfuge the norm.

New beefs are served at every human venue,
but remedies are seldom on the menu.



Your Order, Please
The stomach acid took her by surprise—
disgusting customers who wanted shakes
& fries were incidental, nothing more
than inadvertent triggers standing in
for bigger issues, such as the abuse
she'd undergone. But was it just the way
her tummy roiled, or how they raked her with
their eyes when they were ordering, that raised
the wherefores and the whys? In time, she would
despise the rummy words her daddy spoke;
for now, she was addicted to
the script her drunken mommy wrote.



Requiem
The notes we cherish most
Are gathered from the throats
Of those who perished young.

The song we sadly toast
Was sown from wanton oats,
Disowned and never sung.



Since You Asked…
Timidity's the death of Life itself:
it nullifies tomorrow. Empty books
align themselves like kernels, on a shelf
suspended by the rusted iron hooks
that haven't caught a fish. Too bad one's own
alignment in the grinding press of things
is not as straight as runways overflown
in darkness on the drift of listless wings.

The pains we take are nothing to the pain
we undergo for taking none, and just
to be alive while standing in the rain
had value only when our mothers fussed
all over us. Adults too soon forget
that growing up is meant to be a proud
accomplishment and not a cloak we let
enfold us, something passively allowed.

Defeat is an integument that's worn
to tatters on the backs of those with skin
they fear to risk; no hope so poorly born
as that which rises uselessly within
retreating hearts. The hollow courage wrought
from resignation?—suitable for sheep
before they're shorn! You asked me what I thought…
so if there's nothing else, then let me sleep.



Last Days
Among the many chores we're forced to do,
With no reward besides the faint applause
A conscience will accord, is keeping to
The letter of unwritten natural laws

That dim what light remains inside of us
And turn the world into a sham bordello,
Instating nothing close to Priapus
But boasting only members turned to Jell-o

Or instant tapioca. What is left
For any self-respecting man to bend
His efforts to? What callused hand is deft
Enough to break the mold then later mend

It? Many fires are started in the cold,
But nothing can inspire a heart too old.



By Dark of Light
Do not be afraid to draw a line across
the sky and bar ethereal Dominions
from invading all your private spaces. Toss
them out, along with second-rate opinions

and counselors who once rendered same to Arthur
when Merlin was indisposed; amend your stance
by gleaning morsels of the Magna Carta,
and send those witless advisors back to France.

Old Galileo took up his telescope
to magnify what light the distant planets
reflect, but discerned no more of truth or hope
than found within ripe figs or pomegranates.

Behind each sunbeam lies a frothy plasma
that's dark as darkest haunt where no eye goes;
to breathe of it inspirits healthy asthma,
lungs sealed by Heaven's wealth. Only God knows

where the ends of it begin, and only you
can say whether you shall claim a part of it
or subsist on remnants of what the ground grew
underneath the thrones where mighty Powers sit.



The Last To Go
Clinging to the dim gaud
of midlife clarity,
The disappointed mind
regards its chain of thought—
Once whole, but now coleslawed—
with little charity,
Remaining unresigned
to what senescence brought.

When memory's wasted corps
deserts the garrison,
And nothing more is left
to fix events in time,
There's not a basis for
a sad comparison:
That former crippling theft
no longer seems a crime.



Down There
Down where the remains of lost endings run amok
In the deep middens under a dead weary sky,
And blight hastens along a mouse-infested track
Between the hush bracken and seams of stifled hay,
Down I go there into the writhe of grief's labor
On a bed of willow whose roots were undercut
By torrents lashed from out of cloud-clabber
Impatient with the ripe lather of its own thought.

Down and down, through narrow hallways of gray drizzle
Where sodden petals lie rotting on the cold floor
And bad ideas demand a reappraisal,
As if a second look might not see what they are;
Where feelings dwell in shadowed corners, caught in webs
Each holding too the withered husk of an insect
That kept very still, fearing incautious missteps
Would prove fatal—a justice so nearly perfect.

Down, at last, to the nether level, I invade
The territory of beached dreams, and lay my sore
Head upon the headstone where the solemn leaves bleed
Sap on the faint belief in what my hopes once were.



Cenotaph
The moon's druidic liquid filters down
through elm and maple, saturating all
the chiseled mansions in the sleeping town.

A silken breeze invades the milky beds
of faded bloom and stirs them with a small
bequest of counsel drafted for the eyes
of anyone with will to see: the threads
connecting resting residents with those
who wander nightly, gloomed by sure demise,
are gossamer, yet bind the more. This clan
of human flesh is marked by granite rows—

the child that died at birth, the loving wife
who passed while in her prime, the lettered man
who mourned the vanished moments of his life.



About the author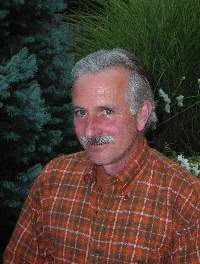 C.B. Anderson is the longtime gardener for the PBS television series, The Victory Garden. Translation: He's got dirt under his fingernails. In the summer of 2003 he read a poem by Don Paterson ("A Gift") that drove him into the fine old tradition to which his neighbors reckon him a virtual slave—and he was only 54. He lives in eastern Massachusetts with his wife and two kids, who don't know who he is anymore, and never will until they try to get published.