Visits and Vistas
Alfred Dorn
ACKNOWLEDGMENTS
In Simultaneous Rooms............. (Voices From Rooms)
Rondeau On A Secret Life.......... (Voices From Rooms)
Face To Face...................... (Voices From Rooms)
Chopin............................ (Voices From Rooms)
Fifty............................. (Voices From Rooms)
The Island........................ (Voices From Rooms)
Travelers......................... (Voices From Rooms)
Salutation........................ (From Cells To Mindspace)
Flamenco.......................... (From Cells To Mindspace)
Bikini Girl....................... (From Cells To Mindspace)
Soloist........................... (From Cells To Mindspace)
From Bengal....................... (From Cells To Mindspace)
Symphony.......................... (From Cells To Mindspace)
The Long And Short Of Memory...... (From Cells To Mindspace)
In Winter Light................... (Sonnets: 150 Contemporary Sonnets)
By Shaded Lamplight............... (Sonnets: 150 Contemporary Sonnets)
Imagine This Scenario............. (Emerson Of Harvard)
The Lie........................... (The New Criterion)
Deep Ones Are Best................ (Sparrow)
Forest After Rain................. (Sparrow)
Tactical Briefing................. (Iambs & Trochees)
Rondeau Written At Waterloo....... (Iambs & Trochees)
The First Time.................... (Iambs & Trochees)
Rondeau Of Sleep.................. (Iambs & Trochees)
Copyright © 2006 by Alfred Dorn
Cover art:
Isabella and the Pot of Basil
by W.H. Hunt
Published by
The New Formalist Press
XHTML & CSS design by
Leo Yankevich
In Simultaneous Rooms
How many doors open, how many close
while your eye skims this "moment's monument"?
Holed up in a slum lord's apartment house,
an old man dies, alone, irrelevant.
Another life is pincered out of the womb,
from tropic sleep into our arctic day.
In a deluxe hotel's Edwardian room
a widow fiercely hugs a rose bouquet
sent by a charmer half her age, with card
warbling silk words that curtain his design.
In the Sahara of a hospital ward
a bed explodes with pain like a land mine.
And meanwhile the galaxy, that spiral ear
carrying us through darkness, does not hear.



Rondeau On A Secret Life
She is not there except as meat and bone
hot eyes ingest when she performs alone
on tables at stag shows, on floors of dives.
Expectant fingers throw her cash—tens, fives—
in air thick with tobacco, booze, cologne.

In hours she claims entirely as her own,
the person no one violates, few have known,
reads Donne, enjoys Ravel, Stravinsky, Ives.
         She is not there

when she grinds to the wail of saxophone
or drops her last stitch to a horn's fat moan
for boys fleeing from steely moms or wives.
Brute rhythm, as it mounts and pounds, revives
an age of caves when all tools were of stone.
         She is not there.



Face To Face
Do you remember the last time you tried
to talk to someone who filled the room with absence,
or distanced you from friend to vague acquaintance,
or dodged you like a stalked hare that would hide
in a convenient thicket woods provide,
or watched clock hands that snailed toward his deliverance,
or dwarfed you with a hewn Pharaoh's indifference
till you slinked off, cradling your inch of pride?

There is a man I've known and yet not known,
though we've cocktailed with friends year after year.
It was like talking to a pyramid
When we last met. The ear turns deaf as stone
When the mind seals with an invisible lid
the drum whose messages it would not hear.



Chopin
His hands wove music, languid as perfumes
of tropical night flowers that quickly fade,
for ladies in Parisian drawing rooms.
George Sand was pleased, imagining he played
only for her. Under the chandeliers
adorers listened in a rosewood glow
to preludes spinning a rainbow out of tears,
to nocturnes like rose petals blown on snow.

But sterner music, in an undertone,
sinewed his rhythms. France could never break
his winter with her warmth. He was a Pole.
A Cossack wind biting into the bone
from a czar's land of steppe and frozen lake
sabered the alien sunlight from the soul.



Fifty
Mornings he's shackled to the telephone,
plugging insurance policies as if
his life hung on each sale. Flesh weighs like stone,
with one leg varicose, the other stiff.
At lunchbreak, in a tavern's oak recess,
a blonde young waitress shimmers through his drink;
his mind's hot fingers rip away the dress
that hides a Renoir bather, ripe and pink.
Back at the office, his whole body hums
as an olive-skinned brunette bends over a file.
He lurches, muscles fired by jungle drums,
toward hip and shoulder sinuous as the Nile.
The ring on his third finger glares. He groans.
A north wind thrusts a bayonet through his bones.



The Island
Five thousand lackeys thronging his Versailles,
his clockwork life as public as the sun,
Louis Quatorze, at moments, ached to buy
unpeopled air in the Grand Trianon.

Edison, who contrived the gramophone
to tickle and soothe the world's omnivorous ear,
invented silence for himself alone.
He told the uninvited, "I can't hear."

Proust dined with wealth and titles, old or new,
count or accountant. To create his work,
the century's richest novel, he withdrew
to a dim bedroom, walls noiseproofed with cork.

Hell, Sartre wrote, is Others, all who ask
to lodge in us, making our life their food.
Rather than yield the island that needs no mask,
we brave the demons that hound solitude.



Travelers
        For Anita

Hadrian built at Tivoli, near Rome,
a dream in marble and water, a paradise
that gave a second life to the art he'd seen
in regions continents remote from home.
We too combed lands beneath exotic skies,
and what we are contains where we have been.
We purchased little, though. (Why go encumbered?)
Our Tivoli is everything remembered.

Stalked by the hour which cancels every tour,
we glimpse that dark room where all travels end.
Though there's much planet we could not explore,
much no life's large enough to comprehend,
each packed a thousand years into three score.
Looking back, we find little we'd amend.



Salutation
When chemotherapy failed, each would-be heir
vultured around your bed for the choice bite,
whispering, "I deserve the lion's share
when you go gentle into that good night."
All felt your hours were numbered, even I.
The Crab claiming your body cell by cell
ate half a lung, but you willed to deny
the ultimate No. Self-miracled, you're well.

You give the lie to befuddled specialists
who had dispensed you three months at the most,
while your kinfolk pester their therapists
to talk away their ulcers. I now toast
the man who, having spiked the Crab, forgives
disease that cured him of his relatives.



Flamenco
Tall, lean, laced in a wire-tight suit of jet,
he springs to his dance of bone and fire. His heels,
hard as a mustang's hoofs, batter the stage
in shattering staccato to the twang of strings
and the parched rattle of his castanets,
clicked to the snapbone rhythm of his wrists.
Too taut for grace, he moves with a matador's poise.
Beneath the skin the ribcage stands like steel.
As guitars throb in shadow—louder, faster—
the skeletal dancer pounds earth to submission,
hammers, hammers, hammers the great stone ball
to a different shape with the drumfire of his feet.

He ripped the Crescent banner from Granada,
whipped Maya, Inca, Aztec into mines.
The dance is dark as El Greco's View of Toledo,
stark as the desert flayed by a sun of steel.



Bikini Girl
Laughing like light she passes within reach,
shedding a wave's gray towel as she leaps out.
A Botticelli Venus walks the beach.

My ears fish up a seagull's unoiled screech,
a police car's whine, a dad's blue-collar shout.
Laughing like light she passes within reach

as I, becoming all eye, forfeit speech.
Where beer cans, popcorn bags, and kleenex sprout,
a Botticelli Venus walks the beach.

A Cancer sun goes lobster over each
pale belly and pale back that lies about.
Laughing like light she passes within reach—

flesh of small moons that time will sear and bleach.
Clothes flatter bodies. Hers shines most without.
A Botticelli Venus walks the beach.

I'm no Prufrock, afraid to taste a peach—
yet I stand warmed by memory, chilled by doubt.
Laughing like light she passes within reach.
A Botticelli Venus walks the beach.



Soloist
"Harriet________, who had been battered and otherwise abused by her husband, was granted a divorce on March 20, ending ten years of marriage. The next day she borrowed a friend's private airplane, which she flew for six hours until landing safely at 10 p.m. A licensed pilot, she had never flown while married."
        —from a newspaper story

She climbs the wind through bandages of fog,
sees the Atlantic's gray eyeball flash through,
lifts above storms her engine's monologue
till, making light of gravity, she's new
as an unspoiled idea.
                                 The earth recedes
like a bloodguilty burden cast behind.
Borne up as if not born below, she speeds
through thinning air unclouded as her mind.

Now she's alone with night. Now time seems stopped
in an Einstein heaven where clocks melt like foam.
Become as weightless as a soul that dropped
body and name on earth, she pilots home
like someone newly freed who had served time
in a fierce prison for another's crime.



From Bengal
A monarch walks in stripes of gold and black,
pacing the floor where he must live and die.
He lunges at the bars that hurl him back.

Around his cage the popcorn eaters pack;
they hoot and howl but fail to catch his eye.
A monarch walks in stripes of gold and black,

glaring at me, legs tensed for an attack.
(How could he know that I am his ally?)
He lunges at the bars that hurl him back.

Attendants clean his cage. He does not lack
raw meat, yet hungers for another sky.
A monarch walks in stripes of gold and black.

I'd swipe the jailer's key, I'd blowtorch, hack
or saw through steel to let the prisoner fly.
He lunges at the bars that hurl him back

and roars. The echo shakes the zodiac.
I clamp my ears in shame to mute his cry.
A monarch walks in stripes of gold and black.
He lunges at the bars that hurl him back.



Symphony
Horns that weave adagios disclose
a forest in October's skin of fire
when earth at sundown, streaked with black and gold,
smolders like a tiger in repose.

Flutes bring flakes of laughter from a stream
where bathers flash like sunlight turned to flesh.
The fifes are whistling blades of cold that carve
snow to mosques and palaces of cream.

Harps become dissolving moons of foam
that fall and break in whispers on a rock.
The cellos drowsily brush the mind like bees,
drop their dreams as in a honeycomb.

Now the violins are opulent
as Renoir's orchards humming with orange heat.
But one mood later they explode in pain,
burst like suns whirled from the radiant

anguish of Van Gogh.
                                      The drums throb low
as Gauguin's crackling yellows, reds, and greens.
Through mango leaves in the Tahitian night,
metal eyes of beasts and idols glow.

Music builds a prism of perfumes
lured from the dyes of every instrument.
The air is woven by orchestral looms
to a robe of color, touch, and scent.



The Long And Short Of Memory
Turned ninety, Hal would have stumbled past the date
that marks his birth if not for that one card
from a still-breathing friend. Memories stay
fresh only when they're old.
                                              Again he's eight,
beating his pals at marbles in the yard,
a small god flicking planets that click in play.
He's twelve, back in the Gypsy's carnival tent,
head swimming in beads, dark hair, and jasmine scent.

He's blurry about things that occurred last year—
thumb torched by greasy kitchen stove, the cut
from a trembly shave, running from chin to ear.
He's puzzled. Were those agonies dreamed or not?
He'd thank lost wits for making them disappear
but doesn't. He forgets that he forgot.



In Winter Light
As north wind makes the year's first snowflakes dance,
one of them drops into my hand like some
white Athens fallen into history's palm—
a moment's Parthenon, brief as a glance.

Rodin sculptured the world-enfolding Hand
which wrapped the empires as they waxed and waned,
enclosed the forms of Phidian snow, contained
the crystal heaven Plato's thought had spanned.

This snowflake on a visit from the skies
may be a flourishing metropolis
with teeming markets, proud Acropolis,
which I, a moment's god, hold as it dies.

If atoms dream in a space we cannot know,
what kingdoms claim my melting star of snow?



Imagine This Scenario
You had been born with microscopes in your head.
Waking one midlife day, you realize
the microscopes are gone, replaced with eyes.
You rub them hard and do not smile. Instead,
you shrink from your unrecognizable bed
you'd seen in fractions, never in full size—
as someone timewarped back to the great reptiles
might cringe from a nearby thunderfoot in dread.

Eyes make invisible the world you knew
where leaves patterned their molecules like lace,
a thousand life-dots teemed an inch of wood,
a thousand more ballroomed a drop of dew.
Accosted by the mirror's alien face,
you shut your eyes. You wish them blind for good.



By Shaded Lamplight
I have been reading in a lyre-backed chair
my past's most wanted words. The sheet I hold
feels new to the fingers, but I am aware
the undated writing is three decades old.

I snowed her house with letters that I knew
would be unhurriedly opened, hurriedly read.
Although her own to me were short and few,
blind wish invented what she left unsaid.

Bound by a waking dream, I watch her write—
Merle Oberon eyes and color-of-midnight hair.
But my hand holds an empty sheet, stark white,
its only words the ones imagined there.
This is the mail no carrier ever brought,
the letter never written, never thought.



The Lie
No wonder you go stooped, shouldering a dead
weight as though a statue cast in lead
straddled your life. And yet the load consists
of matter which does not exist.
Cunning artificer, your artifact,
hollow as it is heavy, rides your back
in public daylight, in solipsist sleep,
granting no breather, no reprieve to drop
the secret bending you to its own shape.



Deep Ones Are Best
My clothing harbors secret rooms I use
to squirrel away the world, furnish a life
too avid: the precautionary knife
bad streets require, the keys I must not lose
(or I will learn one's castle can refuse
its owner), candy wrapped in handkerchief
to palliate the unsweet tooth of grief,
mail not yet read, with its uncontrollable news.

Endowed with a fastidious proboscis,
I'm rescued by my cruet of cologne
when the whole universe breathes halitosis.
Give up my pockets?
                                   Yes, when all I own
vanishes in the ultimate narcosis,
when clothes and skin no longer flatter bone.



Forest After Rain
In this vague dawn that holds less light than shade,
I half sleepwalk in wet up to the ankle
here in these Catskill woods where Rip Van Winkle
stumbled upon white-bearded elves that played
at nine-pins in a secret mountain glade.
Here grow the dogtooth violets Rip saw twinkle,
and Dutchman's-breeches a hard rain might crinkle
but not unravel, among which he'd strayed.

Mists of bright darkness (or dark light?) that float
around me seem inhabited by powers
watching this alien with invisible eyes.
Should elf with sugar-loaf hat and beard of goat
beckon me from a hammock spun of flowers,
I'd wave back cordially, without surprise.



Tactical Briefing
Margo, ex-model hitched to a millionaire,
enters a room-sized closet. With great care
she reviews shoes of many styles arrayed
on shelves, a regiment on dress parade.
She frowns. Those matching the gilt gown she wears
are hard to spot among two hundred pairs.
A knock. The white-gloved chauffeur comes to drive
her and her spouse to his granduncle Clive,
turned eighty, who's just bought his fourth steel mill
and keeps tight-lipped about his latest will.

As they recline in the zooming limousine,
Margo injects a vein with heroin.
Expounding between puffs on a cigar,
Nick briefs her: "Don't forget I'm in a war
of wills with Clive's remote but unctuous kin.
Whoever pets his ego best will win.
Your smile, sparkle, and figure may disarm
the old goat. My chief weapon is your charm.
I know you will adore his haute cuisine
while swallowing tall yarns of where he's been,
but we're not there for truffles and champagne.
I'm on a Machiavellian campaign
to reap the scoundrel's wealth by his bequest
after he's shoveled to his deepest rest.
But should the villain prove recalcitrant
to favor me in his last testament,
I might still bend his will with an argument
by which all doubts, all cavils are confuted,
and though outfoxed he'll think himself saluted.
I may still conquer him with words that play
a variation on an old cliché:
Blood makes us one. Blue-blooded we both are.
Unlike plain water, unlike vinegar,
your blood and mine runs thick as caviar.



Rondeau Written At Waterloo
We all must share the fate of Bonaparte
whether we live for power, love, or art.
We face a final combat none can win,
and all carry our Waterloo within
ourselves, as did "the Corsican upstart."

A flighty queen and the nobles of her court
were carted where the guillotine cut short
their fête galante. The tumbril they rode in
         we all must share.

Sick on St. Helena, the prisoner thought
of many hands that had lifted him from nought
to royalty—hands bloodied by a queen.
Soon the tomb's Iron Duke wormholed his skin.
That conqueror, picking meat from bone apart,
         we all must share.



The First Time
At an old New York school she crossed my path
when both of us were captives of ninth grade.
In class her dark eyes stole my own from math.
One morning in the assembly hall she played
Clementi on a grand. Thenceforth I made
her landscape mine. But she would never know.
Her tongue-tied shadow, I waxed in the shade
Of Verdi, Petrarch, Michelangelo.
Her family moved to Rome. I wanted to go,
puzzling my parents, who did not. We stayed.

I mourned an absence that left no footprints,
a fugitive with no address, no clues.
A lifetime passed.
                              By weird coincidence,
I have just met her brother, heard the news
she died of Alzheimer's a half year since.
Should he provide late photos I'd refuse
to risk a look. They'd ask too hard a price
by making memory a widower twice.



Rondeau Of Sleep
In fertile dark we find our earliest home,
coiled in that warm and pulsing grave, the womb.
Unbroken for nine moons, sleep shrouds us all
from pulpy foot to the still unhardened skull,
while form and fate are spun by chromosome.

Sleep shades the cradle. But grownups become
toilers whose waking hours dwarf the sum
of those lost nightly for that healing lull
         in fertile dark.

Insomnia often stalks the old for whom
farewell tolls as they ghost from room to room,
knowing the longest night must shortly fall.
Could that vast sleep be but an interval?
Do we push lightward from earth's living tomb
         in fertile dark?



About the author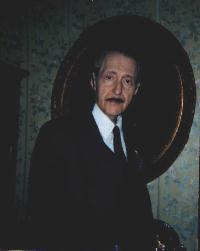 Alfred Dorn began writing poetry at age ten after reading James Russell Lowell's "Aladdin." A prolific, widely published writer of metrical verse, he is the author of Voices From Rooms, and From Cells To Mindspace, both published in 1997 by Somers Rocks Press; and Claire And Christmas Village, issued by Pivot Press in 2002. He is the coordinator of the World Order of Narrative and Formalist Poets Contest, which offers large cash awards for the best metrical entries. Dr. Dorn's interests include art history, philosophy, travel, antiques, and psychic research.