Selected Poems
Henry George Fischer
ACKNOWLEDGMENTS
Was Pound Sterling?.....from
Small Ponderings
A Gloss on the Gospels, Concerning the Rich.....from
Small Ponderings
Der Purzelbaum......from
Small Ponderings
The Tiger's Colors.....from
Small Ponderings
Muse of Light Verse.....from
Small Ponderings
The Truth of Troubadours.....from
Small Ponderings
De la Musique avant Toute Chose.....from
Night and Light and the Half-Light
A Song of Seduction in Three Voices.....from
Night and Light and the Half-Light
The Loves of Jupiter.....from
Night and Light and the Half-Light
Adam's Rib.....from
Night and Light and the Half-Light
A Poem Is Nothing.....from
Night and Light and the Half-Light
C'est l'ENNUI!.....from
Night and Light and the Half-Light
Be Oblique!.....from
Night and Light and the Half-Light
Too Deep.....from
Iambs & Trochees
The Fires of My Desires.....from
Candelabrum
Copyright © 2006 by Eleanor Fischer
All poems reproduced here by permission of Eleanor Fischer
Photo by permission of Eleanor Fischer
Published by
The New Formalist Press
XHTML & CSS design by
Leo Yankevich
Was Pound Sterling?
Some propound Pound was profound,
A pensive Pound of many pence,
Though others found he made no cents,
And found a single ounce of Pound
Too dense to bounce or to rebound.

Still others thought his folly found it
Fitting that he be impounded,
Since his passion for Fascisti
Showed his thinking must be misty.

Though many found it yet was sound,
Had Pound dependably perpended,
Is that the way he would have ended?
Never mind; now time has mended
His offense, he's still renowned.



A Gloss on the Gospels, Concerning the Rich
Here's a gloss on the Gospels, a passage in which
The wealthy are squelched for becoming too rich;
Though the Gospel of John doesn't make this rebuke,
It is made by the others—Mark, Matthew and Luke:

With all of their boodle, the rich cannot wheedle
A camel to steal through the eye of a needle—
Especially if it is laden with pelf
That they've pilfered by cunning, connivance and stealth;

While the painfully poor are too modest and wise
To venture the strain of that vain enterprise,
And they don't need a camel, it's needless to say,
To share what they bear on the Ultimate Day.

Their backs are not burdened with more than a stitch,
Compared to the needlework borne by the rich!



Der Purzelbaum
Von Himmelhoch der Purzelbaum
Treibt umgekehrte Blätter;
Das tut er als ob hätt' er
Nur droben etwas Wurzelraum.

          Heinrich Georg Fischer


A somersault is said to be,
In German, an inverted tree;
From heaven on high it dandles shoots,
And God knows where it stows its roots.

          Henry George Fischer


Je crois, en français, que cet arbre,
N'ayant, sur terre, aucun support,
S'enracine au fond de la barbe re-
splendissante que Dieu arbore.

          Henri Georges Fischer



The Tiger's Colors
The tiger's colors are not fast;
Exposed to sun, they will not last.
If he's not sheltered in the shade
The brightness of his stripes will fade.

And if his pelt began to pale
From top of head to tip of tail,
Then all beneath his faded hide
Would fade as well, including pride.

He's well advised to prowl by night,
In the forests, burning bright,
Whereby his brightness lights his way
As if the night were bright as day;

And as the day begins to break,
He gives three cheers for William Blake.



Muse of Light Verse
Muse of light verse, exigent,
Your wiles demand, don't circumvent
The moving pulse and pace of meter,
(And on four feet the feet go fleeter);

You bid the poet be absurd,
But will not pardon him a word
That does not scan; you scorn his lines
If they don't terminate in rhymes.

They must be neat and never ramble,
Yet as free as lambs that gambol.
Their whimsy seconded by sound,
Where echoes beckon and abound.

Most impudent yet prudent muse,
You laugh at kings who don't wear clothes;
For all your fun, you don't confuse
Appareled verse and naked prose.



The Truth of Troubadours
True troubadours will find untruth
Less troublesome than what's uncouth.

Il trovatóre has this motto:
"Se non è vero, è ben trovato."
I.e. he's apt to say, "I never
Spurn untruth if it is clever."

On trouve souvent que, dans ses lais,
Le trouvère n'est pas dans le vrai.
(One often finds the trouvère strays
Far from the truth when he writes lays.)

The Minnesinger's truth is dim
And minimally bothers him.
Thus he'll declare, "auf jeden Fall es
Macht mir nichts; Gefühl ist alles!"
That is to say: "it doesn't sing
To me, but Feeling's everything!"



De la Musique avant Toute Chose
How many poems cannot find any homes;
How many winged words, still on the wing,
Hover in holding flight while poedromes
Deny them space to given them harboring.

How many tongues are tied, too tired to tell
Of anything that stirred their words to flight
Because their words found nowhere they might dwell,
And they could not invade where none invite.

How few have ears that still will hear a lyric,
Or voice a verse instead of merely reading,
Or even mutter metre that's satiric;
How seldom lips accede to metre's leading.

As he who's heeded me thus far well knows,
The poems we prize are muzzled, puzzled prose.



A Song of Seduction, in Three Voices
He slyly sidled to her side;
Her palate and her ear were plied
With serenades and lemonade,
All to belie the plot he laid.

With syrupy and scented sweets,
And oft-repeated soft conceits,
His syllables, like sillabubs,
Reduced her stubbornness to stubs.

His wiles were such she was beguiled,
One wile away from being defiled,
When she, before she had concurred,
Beneath his false falsetto heard,
In tones low-keyed but eloquent,
The tenor of his bass intent.



The Loves of Jupiter
I know of few girls stupider
Than Io, cowed by Jupiter.
(And it seems quite preposterous
That she should name the Bosphorus.)

Or Leda, who is such a goose
As anybody might seduce,
For Jupiter has but to don
Some feathers, and she sees a swan.

Semele's unseemly plea
To view him in his majesty
Is well repaid, for only dolts
Would go to bed with thunderbolts.

Though it is just mythology,
Callisto's lame apology
To vexed Diana puzzles me:
She claims that she thought he was she!

And as for Danaë, she's sold
On having sex with bags of gold,
In consequence of which, she nurses
No other progeny but Perseus.



Adam's Rib
When he was first created, Adam
Was neither sir nor was he madam.
For only when decostalated
Could his sex be clearly stated.

Then only did his yang begin
To feel the pang of a yen for yin;
Adam felt ribald without that rib,
Which was also the start of women's lib.

How fortunate it was, and fitting
That God should practice Adam-splitting,
Out of which He cannily
Produced the nuclear family.

Yet who'd suppose, when God resects
A rib, there'd be such side-effects!



A Poem Is Nothing
A poem is nothing if it can't delight
The ear, delight the ear, and not the sight.
It must do this, however much its freight
Of image, thought and feeling give it weight.
And if its weight be wanting, that's no matter;
Far better it be slighter than be fatter.

It may indeed lack reason and want sense,
A thing bereft of any consequence,
And yet be so enchanting it allays
The darkest moments of our dreary days.
If truth be reinforced by rhyme and metre
And alliteration, all the better,

But be advised of this, and mark it well:
A poem's a thing of magic. It's a spell.



C'est l'ENNUI!
What Baudelaire deplored was boredom;
He deplored it more than whoredom.
And it's true much good has gone
Down the drain that is a yawn.

And true it is that men have warred
For little more than being bored,
Not to speak of civil crimes
Too uncivil for my rhymes,

Though other things may sorely vex
Us, not the least of which is sex.
And what dark thoughts assail the mind
When sex and boredom are combined!

Indeed I think perhaps that may
Be what the poet meant to say.



Be Oblique!
Don't be plain, but be oblique;
Skew your words to make them newer.
Don't spell out your meaning, eke;
Place obstacles round which to peek,
Or else you won't find a reviewer.
You must hide or he won't seek.

There's no merit in revealing
What a poet's not concealing.
But, if you make reviewers guess
Your point, they'll share in your success;
And you in turn will find a place in
Their own self-congratulation.

Are you convinced? I'm not quite sure
I've been sufficiently obscure.



Too Deep
In spite of William Wordsworth's words, one fears
There's nothing in the world too deep for tears.
It would, no doubt, have been less daft to say
Some thoughts are too deep to be laughed away.

This much may seem self-evident, and yet
Will Shakespeare contradicts my adage; he
Finds laughter midst the tears of tragedy;
He is most poignant when the two have met.

But if, when thinking thoughts that tempt my tears,
I'd feel relentless shifts of mental gears
That bid me weep into the depths, then try
To lift my laughter up to heights as high
And dry as tears are wet where they run deep,

I think I'd think less deeply lest I have less sleep.



The Fires of My Desires
The fires of my desires are dying now;
Their trembling embers falteringly flutter.
My darkening years are given little glow,
And to my hearkening ears they merely mutter.
My wearied eyes, lacklustre, lack a lens
So focused that it can refocillate
My yearnings, reaffirm my erstwhile yens,
And all those cravings that can but abate.

But still past poets' stirring words can warm,
And still the splendour of their spells rekindles
The flame within that fails me, falls and dwindles;
Their spells dispel the dark of doubts that swarm:

For all remorse, all mournful thoughts are morselled
By this recourse. I'm solaced and ensorcelled.



About the author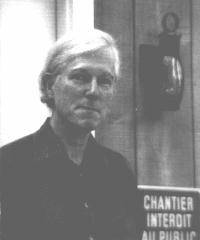 Henry George Fischer (1923-2006) was the chief curator of Egyptian antiquities at the Metropolitan Museum of Art in New York City. He was the prime mover behind the acquisition of the Temple of Dendur for the Museum in 1965. A graduate of Princeton, Fischer taught at both Yale and the American University in Beirut. His published books on Egyptian art, archaeology, and hieroglyphics are still authoritative standard works in those fields. He also authored a number of books of verse, including This Word (1992); Timely Rhymes (1993); Night and Light and the Half-Light (1999); and Small Ponderings (2002). The selection of Fischer's poems for this E-book was made by Joseph S. Salemi.