Messenger
Jerry H. Jenkins
Some of the poems in this e-book have appeared in the following publications, to whose editors grateful acknowledgement is extended:
The Formalist, JEST (Journal of Extraneous Scientific Topics),
Mobius Magazine, Pirate Writings,
Poetry Monthly (UK), Susquehanna Quarterly,
Terrain
,
The New Formalist,

and

2001: A Science Fiction Anthology (Anamnesis Press)



© 2002 by Jerry H. Jenkins


Published by The New Formalist Press


Photo on cover:
Mars
XHTML & CSS design by
Leo Yankevich
Cycles
Stars invade the no-man's-land of night
and occupy their promontory places.
Meteors sparkle in a brief firefight;
stellar armies wheel; Orion chases
Pleiades and flees his predator
the Scorpion. Slain by dawn, they all return
at dusk to recreate the theater
of violence in the void where they burn.

These cycles, Love, are nothing but illusion
that veils a universe that blows apart,
where light is born in cataclysmic fusion
and dies deep in some black hole's whirlpool heart.
But in the vaulted planetarium
that is my mind, you shine, a gentle sun.



EGGs in the Eagle Nebula
Fossil hunters search for nests and know
of deserts where the wind erodes the stone,
revealing crèches of the dinosaurs
whose eggs were fossilized eons ago.
Their hatchlings in their sandstone amnion
reveal the dead hope of an old world far
removed in time and space from where we are.
But dust cloaks more than merely fossil bone;
Hubble's eyes now show astronomers
another wilderness where it has blown.
In space, where towering columns pulse and glow,
raw light erodes the pillars of the stars
whose eggs emerge from nests in globular
arrested brilliance, suns in embryo.
EGGs: Evaporating gaseous globules – stars in process of formation
Special K
There is a cosmic Sargasso Sea
where castoff objects rest
becalmed in the doldrums
of balanced gravity,
languishing in Lagrange points.
Here come the Ks of the world,
clattering consonants,
worn out by constant
clicking and clacking,
crowded as plastic blocks
from the K-Market,
knocking their neighbors,
clickative barnacles
stuck in the backwaters,
wrinkled pensioners,
kaput as sputniks,
cosmic hitchhikers
waiting to cling
to the kamikaze
tails of stray comets:

Kohoutek
Ikeya-Seki
Araki-Alcock
Shoemaker-Levy
Hyakutake
Snyder-Murakami
(Readers may be struck to see
that many Ks are Japanee,
but with some luck
one day there'll be
Keokuk
and Kankakee)



Icefall
I watched the astronauts' brief walk in space
along a slender boom. I thought of them
as aphids, stiff and white upon a stem—
unexpectedly devoid of grace.
A hemisphere of earth, blue, white and green,
floated to their side, a vast contour.
I contemplated how some hours before
I'd fallen on the steps. I hadn't seen
the winter melt refrozen into ice,
and plummeted, a graceless lump of lead,
the pratfall, arms awhirl, slip and skid.
Tomorrow they'd descend, controlled, precise,
from colder regions, from that awesome height
to this same earth, their smiles assured and bright.



The Station
Sunset comes. I leave the house and stand
gazing over trees into the sky
through twilight so serene I could feel the sand
slide grain by grain in an hourglass. Nearby,
a firefly blinks and bobs, a seahorse swimmer
floating on the currents of the night.
Overhead, a burst of bright sound shimmers—
swallows in familiar homing flight.
In this holy, silent time, I wait,
snug in the seam where day and darkness blend,
patient watcher under heaven's gate,
face turned upward to the stellar wind,
until the soft bright dot of Mir appears,
a firefly out of reach and yet so near.



Messenger
—for meteorite ALH84001—
Adrift in space for sixteen million years,
preserved in polar wastes, this messenger
arouses both our deepest hopes and fears
with hints of life in ancient aquifers.
What providence preserved this one? So few
of all the white-hot meteorites survive
their earthward plunge. This one contains a clue
that Martian deserts may have been alive.
Our brief hope dies like meteor light. Although
we half-believe the fossil protozoans
we think we see within this alien stone
may still survive, we know it isn't so.
The world they left is barren, bleak and dead.
This battered rock foretells what lies ahead.
The Curators
Mars is not for youthful men. The past
is everywhere, dead cities in the sand,
fading sunlight slanting on the vast
and rippled dunes the sunset wind has fanned.
We come here as Mars' final scholiasts,
to silent and abandoned Samarkands,
to cities left a million years ago
by vanished cultures we will never know.

But they were humanoid, and once were young.
A fluted column's grace, a fading book,
still hint of what they may have said or sung,
and we imagine how they might have looked.
Thus old men live with shadows, and among
past lives for which we long ago forsook
our own, we exercise in their debris
our hopeful, futile archaeology.

An older race's dreams become our own;
those dreams may be the one thing that can hold
the brittle cities standing—thoughts alone,
the only thoughts of men grown frail and old
and pledged to Mars in marriage, soul and bone,
remembering two races' fires grown cold.
The ghosts we meet within these ancient towers
may be the Martians'—or they may be ours.

We span two worlds, at home in neither one,
dry husks that rattle down these empty streets,
and when we pass into oblivion
with those whose destiny we must repeat,
once, briefly, where the old canals still run,
the last of Earth and ghosts of Mars will meet
to cast our dual shadows in the light
of two dead moons in cold, indifferent flight.



To The Embarking Colonists
Remember Earth and this soft April air;
it's something you can never synthesize
when you're between the stars and realize
you're never coming back. Your atmosphere
en route is sterile, odorless, and where
you're going isn't any greater prize.
Remember Earth.
Take one more moment. Days like these are rare.
Recall today, this season and these skies.
We give them to you now, so in your care
the call of spring in mankind never dies.
Remember Earth.




And So It Goes
The moon shows only one eternal face
and that eternal face is always white,
a ravaged and a cataclysmic place
where stones that would be planets strike in rage
from god-forsaken dark and leave their blight,
and so it goes, age after bitter age.
The moon lures all that lies between the stars,
attracting with her dignity and grace
an endless and abrasive stream. Her scars
reflect the slow accretion of debris
Selene suffers for her charity.

A riotous diversity of bloom,
my garden nurtures flowers of every stripe,
exotic strains that struggle but resume
their native shapes; like old chrysanthemums
revert to basic type,
betraying my indulgences, and some
tea roses turn to tare,
primitives that spread and thrive in gloom.
Their spiteful thorns hurt hands that gave them care.
Where gratitude has gone, God only knows.
So gardening turns to toil, and so it goes.

The shadows lengthen and the sun descends
through twilight. Clouds transmute from gold to rose
through gray and then to black. These pastel blends
proceed to darkness. As it's always been,
so now it goes.
The fabric of diversity wears thin
and nature favors dark,
the stillness of cold entropy her ends,
a showcase for the brief, contrasting spark:
the unattainable and mocking stars,
the dark road to the sullen face of Mars.



Report of An Encounter
While Surveying the Third Planet
We landed without problems and in darkness,
(The planet spins, producing day and night),
undetected, save for raths and toves,
the terms they use to name those specimens.

At first we undertook a simple scan
and found that we had landed in a wabe,
overgrown with forest, filled with mist—
not very much to justify the trip,

But we began the standard survey run
(air samples, radiation, chemicals,
the usual). The whiffle sensors failed
to locate any signs of sentience.

Therefore we activated burblers
and moved with normal caution through the zone,
till, over-confident, we turned on headlights,
am error which exposed us to their view.

Some small persistent creature then advanced
and swung an implement (no light-sword, that),
which by some unexpected circumstance
severed the command pod from the craft.
 
The creature took the pod (with all the bridge staff)
and left the damaged craft, which cannot fly
until repairs are done. We must retrieve
the pod for reattachment. It will be

Impossible to do so by persuasion,
but soon, when it returns to meditate
beneath its tumtum tree, our scouts will learn
where it has taken Captain Jabberwock.

Since we have been detected, some precautions
will be required to keep our presence here
a secret, although full extermination
is not required.

A continent will do.




Violins
Their music is the pure refrain
that cries to us out of the heart
of living wood whose lustrous grain
Amati harvested for art

from forests coming to no harm
through cutting of a tree or two,
unaware that they would charm
another world they never knew.

The pain of those selected trees
the craftsman sculpted with his knives
persists today in symphonies
whose majesty exalts our lives.

Now, among earth's teeming streets,
alien artists come and go
to harvest humans fit to meet
a usage few of us may know.

Like trees whose agonies ensure
the resonance of violins,
the transformations they endure
please an inhuman audience.



The Arrhenius Vector
Tonight is unusually quiet and still
with a glow in the sky where none should be,
an unseasonal warmth to the autumn chill.
In forests and deserts and fossil seas,
tenuous shapes are swirling in streams
of mist collecting near astroblemes,
amorphous as half-remembered dreams,
in a strange camaraderie.

They come together, assembling here
as a herd migrates to a water hole,
with a single instinct. No hate or fear,
but a placid, unanimous animal soul.
Here the familiar and strange abound—
glyptodont, brontothere, hunting hound,
some species whose fossils have not been found.
They look to the skies and stare,

Waiting for heaven to open the gate.
Gathered again in their old domains,
silent, expectant, they come to wait
near the meteor craters that still remain.
During the Leonid nights each year
they assemble to watch for the light to appear,
hoping that what once brought them here
will take them home again.



Candle
One star has faded from our evening sky.
Millions remain; its loss is meaningless,
but on some world in bitter emptiness
of space, what terrors did its death imply?
What navigators watched their pole star die,
what shrines, whose majesty was somehow less,
burned incense to their gods and goddesses,
their avatar oblivious to their cry?

Although this happened long eons ago,
in reaches far beyond our present sight,
it may yet be important that we know,
for at this edge, that vanished stellar light,
that darkness where its fossil remnants glow,
reminds us we are on the rim of night.



Icarus and Thistle
A fluff of thistledown on  summer wind
escaped my outstretched hand in drifting by.
It made me glad to know it would descend
in far-off soil where it would multiply.
In eons past, ancestors of this seed
released Earth's future life from tidal mud;
now butterfly floats over millipede,
and seas of grasses flow where cycads stood.

What futures are unfolding now in me?
I rise beyond myself through thermal air
above the glitter of a dwindling sea
to seek that distant destination where,
at some consuming perihelion,
I flower in the garden of the sun.



About the author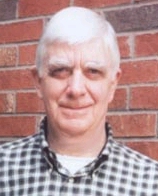 Jerry H. Jenkins'
poems have appeared in numerous hard-copy and online periodicals and anthologies. He has co-authored the book-length collection
The Weird Sonneteers
with Keith Allen Daniels and Ann K. Schwader (Anamnesis Press), and two chapbooks
Avian
(Anamnesis Press) and
The Garden of the Sun
(Helionaut Press). He has edited two anthologies, and has written reviews of poetry collections for various publications.
He has been a career Marine Corps officer and combat veteran, instructor and university administrator, and is now active in community affairs. He resides in Louisville, Kentucky with his wife Gretchen.