Somewhere Near Evesham
Karen Kelsay
Acknowledgements
The author thanks the editors of the following publications
where these poems first appeared:
The Chill
: "Willlow's Wept Review"
Somewhere Near Evesham
: "Joyful!"
Intertwined
: "Ancient Paths"
Winter Widow
: "Wilderness House Literary Review"
Anywhere
: "The New Formalist"
Copyright © 2009 by Karen Kelsay
Published by
The New Formalist Press
XHTML & CSS design by
Leo Yankevich
The Chill
She calls when apple boughs are light
in frost and arch with weight of ruby-clustered
globes. When aspens rise like candles
tipped in gold, each glimmering on autumn's

fading hills. I hear her muted winter words.
They chill the maple into hues of red and chant
of northern lights and falling stars. My pear
tree drops its fruit, a magpie tucks

her wing, and every silver birch begins
to lose its crown. All nature chants for snow
while I turn like the tamarack along the ridge,
whose naked branches long for summer sky.



Acceptance
Like trees that line a path and intertwine
To form a Roman arch that shades the walk,
Alongside which the buttercups recline,
Engaged in multi-pedaled flower talk,

So our days are linked in mirth and sorrow,
Embracing one another, as they spread,
Small buds assure us of a fine tomorrow
By softening dark shadows overhead.

But frigid winds oft come in from the east,
And summer turns away her golden face.
When greenery and blossoms all have ceased,
Then only wintry boughs will interlace.



Blenheim Rhapsodies
Still robed in purple skirts, the morning wraps
around the hills and moves from tree to tree.
Along the path, where thickets flash their caps
of green, small ducks reside. December's plea

for snow will not be heard today. This peaceful scene
reflects an era of another time;
perhaps some noble woman, or a queen
has walked these grounds before. A distant chime

of bells is heard beyond the leafless elm
whose brittle branches rise like fragile prongs
to grasp December skies. This charming realm
remains untouched and, possibly, belongs

to fairy folk residing in the glen
who've finished singing autumn songs. But now
the winter chants those melodies again
in calming rhapsodies from every bough.



A Quiet Thought
You would have loved it here tonight. Outside,
the sky was rimmed in gold, but then one cloud
snuffed out the last remaining twilight glow—
Once more I looked, then mingled with the crowd.

At last a hush descended on the hall;
A woman dressed in blue, your favorite shade,
began to sing; and suddenly I felt
a quiet longing, while the music played,

and all my thoughts again returned to you.
Her voice, now just a memory. Each light
is dimmed and gone, somehow the beauty still
remains—You would have loved it here tonight.




Winter Widow
In Coeur d'Alene a red hued sun has sketched
a portrait of the willows by the lake.
I watch her cut the last remaining rose
before the frost. Her hand picks up a rake

and lets it play one garden song, a dirge
of dying yellow. October glides away
like eagles on a cloudy afternoon
that dive into the chill of Mica Bay.

Her pears and apples have been gathered up
and brought into the kitchen. Soon the snow
will cover every hill. She folds her gloves,
remembering her daughters, long ago

this farmhouse had a family. Now deer
become her children, blending in the mire
of tawny dreams and cherry blossom springs.
She shuts the door and huddles by the fire.



Stubborn Fruit
On better days, when she's not grieving,
sunshine trickles through a colander of cloud
to lighten her tangled hair. Aspens quiver longer

in the breeze and deer rest like statues under
the neighbor's apple tree, brown eyes gazing
through low branches. Magpies don't encourage

the hovering sadness that clings like stubborn
pears above the wall, refusing to drop
upon the garden's lap and quietly
dissolve in winter's arms.



Aberfan
A russet spire winked through the barren trees
Then vanished when the sun glowed rusty-red
And filtered over silent, narrow streets.
Vague visions of the past ran through my head.

I found the chapel on a tiny hill,
Long windows held my pensive, solemn stare;
Inside, I laid my hand upon a pew,
Then thought I heard the echo of a prayer.

Outside, the dusk swirled into cheerless clouds
That sent a hush down through the chilly sky;
Old coal slag rose in regiments of grey
Like altars, to some ancient god on high.

Then winter evening swept each home away,
For darkness covered every lonely place;
And so I never got to hear or see
One laugh or smile upon a Welshman's face.



Intertwined
White jasmine creeps beneath my window pane
and blooms along the freshly painted ledge,
then ambles through an oleander hedge
where buds embellish tendrils on the chain.

Inside my room, deep shadows gently glide
across the picture opposite my bed;
they fade into a tawny shade of red,
then faintly touch the walls on either side.

The rolling lawn is pale and softly spread;
soon, twilight breathes a delicate array,
of stars that seem to whisper down and say:
"The hand of God has placed us overhead."

The crickets chirp outside around the trees;
their cadenced sound incorporates the night
in quiet rhythm, putting all things right—
with subtle, unobtrusive melodies.

I listen, and I hear the willow sigh;
she shakes her head of leaves into the air
and weaves a braid of peacefulness and care,
which links my thoughts to velvet bands of sky.



Somewhere Near Evesham
December swept the cemetery lawn;
The drone of church bells bridged the waterway.
On ancient tombstones, near the abbey wall,
Each epitaph was faint and worn away.

But then that special one, in front of me,
Had blossoms reaching upward from the ground,
All yellow, bright as spring. And when I read
The words engraved, a sleeping voice I found—

It softly echoed out in hope these words:
"Although my body is corrupt, I shall
Again be whole." And all the way I thought
Of her, while wandering the long canal.



Anywhere
Perhaps it was the somber vines between
those leaves, or how a moon spilled lavender
through parted sheers, and blended shades of green
against my wall, that made me think of her.

Or maybe, it was trusting mourning doves
who left their eggs behind when dawn imbued
a citrine sky. I know about her loves.
They echo in the beauty she pursued

like scents of hyacinth in June, or song
that fills a hillside church, and solemn prayer.
Each day I think: it seems so very long
since I have sensed her presence, anywhere.




About the author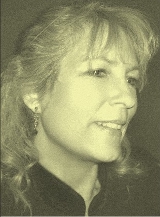 Karen Kelsay
is a native Californian who grew up near the Pacific and spent most of her weekends on a boat, as a child. She has three children, two cats and extended family in England, where she loves to visit. Her poems have been published in numerous journals, including
The Boston Literary Review, Soundzine, The Christian Science Monitor
and
Willow's Wept Review
. Her first chapbook,
A Fist of Roots
, was published by Puddinghouse Press in 2009. More of Karen's work can be found at
www.karenkelsay.com
.