Metaphysics
Leo Yankevich
Some of the poems in this e-book have appeared, or are to appear, in the following publications, to whose editors grateful acknowledgement is extended:
Beauty for Ahes Poetry Journal
,
Blue Unicorn
,
The Christian Guide
,
Electric Acorn
,
Ironwood,
The MacGuffin
,
The Neovictorian/Cochlea
,

The New Formalist
,
Romantics Quarterly
SPSM&H
,
The Susquehanna Quarterly

and

The Tennessee Quarterly
© 2002 by Leo Yankevich
Cover Art: by Hieronymus Bosch
Published by
The New Formalist Press
Hunter
Oh, but a thought ago a baying hound
had led him to a clearing in the sky.
The stars tolled beyond the sombre clouds
and on the frozen pond the forest sighed.

He knelt, his arrows whetted by a tear,
the fire he'd set, rising into night.
Eternity approached, and in its sphere,
a sudden passing bird eclipsed the light.

He aimed and freed an arrow into dark.
Then maelstroms, downy plumes, snow tainted red,
the pity of the moon: he hit his mark.

The hellward bird now tumbling overhead—
past hunger, fear, dumbfoundedness and shame—
an angel, angel falling into flame.



The Moth
Although they've much in common: fear of night,
fear of the hour-glass's falling sands,
he traps a fleeting moth inside his hands
as it departs the darkness for the light.

It beats its wings in an impassioned fight
to force its way out, willfully demands
its freedom. But the power that commands
his own will—is unmindful of its plight.

He holds it fast, as if intent to show
that all depends upon the power's whim,
that if he dares to squeeze, or lets it go,
no wrathful god will judge or punish him.

Yet when his hands unfold, his conscience stings:
the powdery, white flakes—were once its wings.





Sarajevo Sonnet
Within the four walls of this sonnet's form
(while outside spring rain gathers in a pail),
there is at least one happy story to tell,
something lovely brought on by a storm.

Fresh thrifts have sprouted, and a fat worm
lazily crawls out of someone's cracked bell,
crawls out of the centre of someone's hell,
out of a skull atop a uniform,

while not too far away, in someone's rib cage,
in a sunlit temple without a steeple,
two tiny beetles in the place of people,

(their love too pure to ever turn into rage,
too tried and true to ever fail or falter),—
take their vows before a priestless altar.



Metaphysics
This is the last goodbye, the final salute.
From beneath the cover of a flag
the ensign is assisted down the chute
so neither flank nor limb can catch a snag.

Then at last his sunken eyes see light,
and he sets foot into the promised land.
Effulgent plankton there redeems his sight,
Elysium of bright seaweed and sand.

How glorious his underwater grave,
even though above, the stone-faced captain
sees a guilty spectre in each wave,
and dejection overwhelms the chaplain.

And the crew? They're busy swatting flies,
the smoke from guns still burning in their eyes.



Kant's Shadow
It stalked him to the end of fear,
like clockwork, down each Gothic street
of Königsberg, as if it knew
precisely when their hands would meet.



Esse
"And if he should have to compete with those who had been always prisoners, by laying down the law about those shadows while he was blinking before his eyes were settled down–and it would take a good long time to get used to things—wouldn't they all laugh at him and say he had spoiled his eyesight by going up there, and it was not worth-while so much as to try to go up? And would they not kill anyone who would try to release them and take them up, if they could somehow lay hands on him and kill him?"
      "That they would!" said he. (Socrates)
—from Book VII (the allegory of the cave) of Plato's The Republic
To be a little touched, the sacred way:
in slants of light that glorify windows.
To be a tad estranged, unlike all those
who smile as guiltless gods against the grey

twilight, bursting to flame, bursting to flame.
To be, to be, beyond the cage of be-
ing, court, arbiter, jury, holy see—
nor here nor there, imbecilically lame

in that august mystery and graven mood.
To be, a moment, still as stone, bright stone
that's grasped like truth, alone amid the lone,
though hoisted high upon a crimsoned rood.




Beast
It's night again. Above the dreaming hill
stars are so close your finger reaches them.
You've downed your pint of beer, have had your fill
of darts and cards, and piss beneath a stem
of cherry blossom. Luna's in your eyes
and speaks a language only you can hear,
a language of hermetic grunts and sighs.
You know a beast is stalking, and a deer
is running for its life a breath away.
You are a bit of both, you think, with feet
now moving toward the shanty in the dale
like hooves of an uneasy woodland stray,
or paws of a wolf that trails a distant bleat
until its muzzle finds your bushy tail.



Old Anthology
for a Forgotten Poet
I found your name between Cawein and Clare
in the index of an old anthology,
which I had bought for only half a buck
while hunting classics at an open fair.
Your contribution is "The Morning Rook,"
a sonnet Williams chose to overlook
when filling up his "Little Treasury."
It seems that even now you have no luck.
Today few know your only published book
or read your out-of-print biography.
And yet those fourteen chiseled lines were placed
beneath your name to last beyond your time,
as if their words could never be replaced
by prose, or gestures at a pantomime.
Mary
When he beheld stars in her eyes at play,
and when he heard their laughter in her voice,
he never doubted. He could but rejoice:
Her soul was real, real as the Milky Way.

He was a planet spinning round her glow,
he was alive because she was the sun.
But that was when their marriage had begun,
so many warm, bright memories ago.

These nights she sits inside the winter house,
her hands limp in a flowered kiddy-bowl,
her supper splattered on her bib and blouse,

her eyes, her eyes—now denser than a hole
that over pink horizons of their scars—
blackens planets and eclipses stars.



Raggedy Anne
Through woolen tresses of her limp red hair,
will she conjure ghosts to pry the locks?—
He wonders as he climbs the creaking stair
to lay her in an attic storage box.

Enchanted is the freckled face she wears
these days so darkened by his daughter's death.
She is too daft and fey to grasp his cares—
down the seven years of fostered breath.

Her eyes are brilliant as the breaking dawn
afire with the news of Eastertide,
as if faith could bring back the dead and gone,
or put a rib back into Adam's side.

May she see endless mercy grant a pardon
to her elder sister struck at play.
And may she see pure light in Eden's garden
though he himself sees only dark through grey.



When Nothing Remains
for Kasia
Today, I think, I'd like to have you pose
surrounded by abundant store and riches,
surrounded by elaborate head-dresses,
water-heavy pearls and silken hose.
I want you in the dark, holding a rose,
among bronzes, candlesticks and vases,
vases from which a balmy steam arises
into a Great Dane's dilating nose.
Rembrandt, doubtless, must have felt this way
when painting Saskia in a velvet gown
as she approached her death before his sight—
as if with grapes he could prolong her stay,
as if he wished to weigh her beauty down
with the luminescent heft of candlelight.
St. Martin's Cemetery,
New Derry, Westmoreland County, PA
Grandfather Lawrence, whom I never knew,
I wonder what appeasing light, if any,
may have eased your pain and strengthened you
as blind and bleeding underneath the many
winding caverns of the hellish earth,
your starved lungs gasping for a final breath,
you prayed for some miraculous rebirth
to justify the agony of death.

But what your friends could rescue from the ground
resembled only contours of a man.
And none dared utter words or make a sound
when Hilda (mother of my mother) ran
and tried to recognize your blackened face,
then covered it with light from her embrace.




Praised Be
Praised be the ugly and the beautiful,
the slow decay of leaves, the dew on grass,
the thistles and the apples bountiful.
Praised be the frozen branches in the pass,
the rapids rushing downwards to the spring,
the violets sprouting in the morning light.
Praised be the feather of the broken wing,
the wounded fawn that will not last the night
whose heavy clouds obstruct the moon and stars.
Praised be the hungry lynx and its last prey,
the goshawk flying over woodland scars
before it dives into a sea of grey.
Praised be the fierce light that forever burns,
and life that struggles, dies and then returns .



A Magic Mountain
It comes to this: a greyness like no other
under clouds uncanny as the mist.
And down below, the village church so small
its Sunday bells on Monday reach the crest.

And leafless trees descending to the river,
melting snowmen lined against the wall
where shelters stronger than your lack of faith
await the never-ending miracle.

And suddenly it burns a living gold
beyond the scope of any oracle.
And you forget your pain, forget your death,
and greet the ghost that has you in its hold.




A Tiny Glow
Without the moon or stars to guide his sight,
without a glint from shanties down below,
he rested on the foggy hill that night,
and begged the heavens for a tiny glow.

Despair turned into dream... a little boat
with fishermen inside in search of faith,
a boat which, neither sinking nor afloat,
now blindly drifted past a drowning wraith.

And he among them, but incapable
of seeing a reflection in the waves,
which lapped against the stormy parable
like hammers beating iron into staves...

But when he woke at dawn his eyes could see
light walking on the dew toward Galilee.



Mystic
He'd reached the crest and rested in the sun.
Glory, Glory tolled the bells below.
A hawk descended over spruces—dun
eyes focused on a flutter in the snow.

And he beheld a dove ascending, blood
baptizing crowns beneath the vise of claws.
And in a wince he felt the final thud
of mercy—bless the stringency of laws.




About the author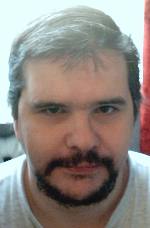 Leo Yankevich
lives with his wife and three sons in Gliwice, Poland, where he works as a translator. His poems are known throughout the world.
Books by Leo Yankevich
The Language of Bird
s; Pygmy Forest Press, 1994
Grief's Herbs
(translations after the Polish of Stanislaw Grochowiak); The Mandrake Press, 1995
The Gnosis of Gnomes
; The Mandrake Press, 1995
Epistle from The Dark
; The Mandrake Press, 1996
The Golem of Gleiwitz
; The Mandrake Press, 1998
The Unfinished Crusade
; The Mandrake Press, 2000
The Bird-Headed Monster
; forthcoming in 2003